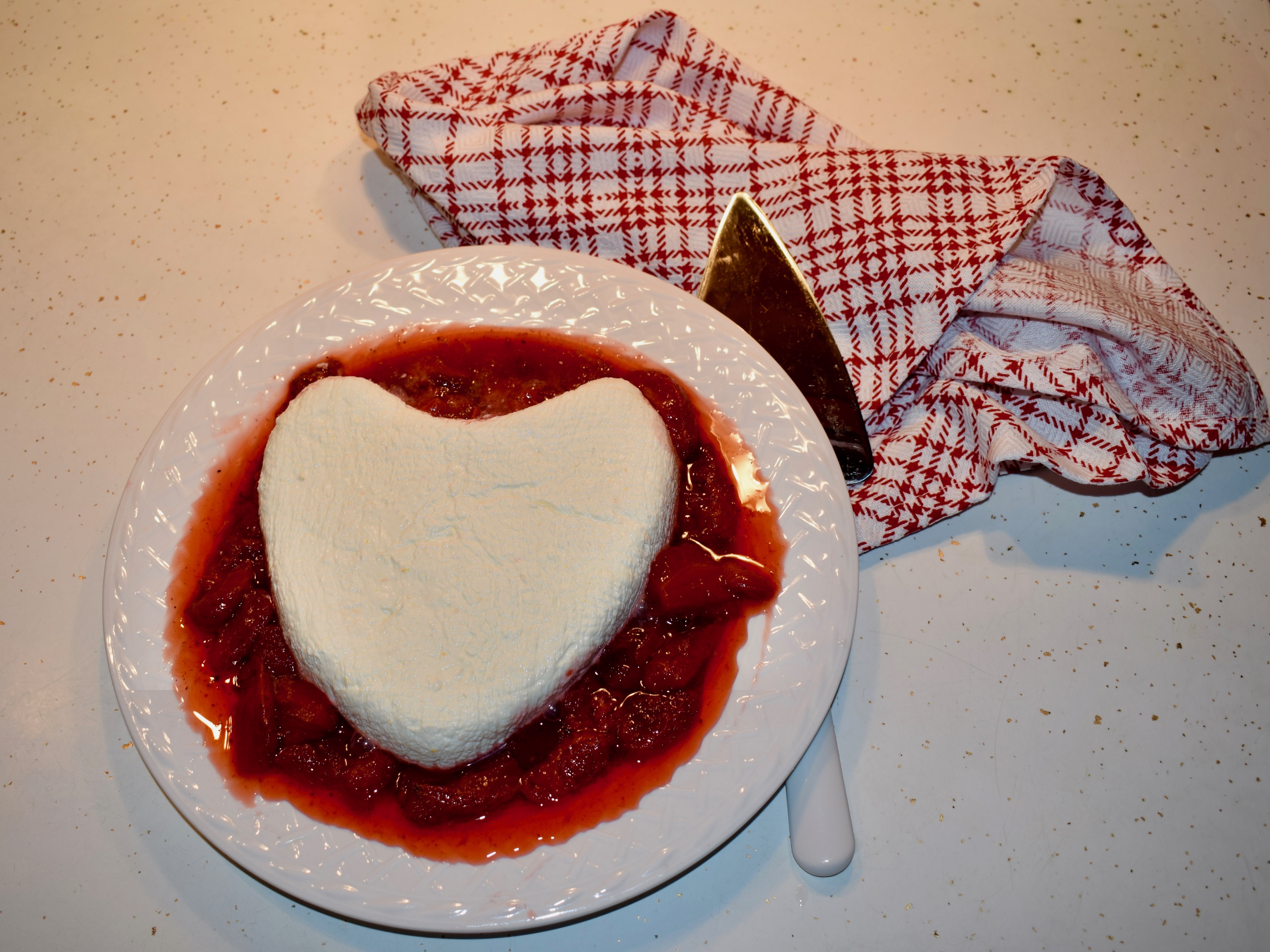 Treat your guests to a delicious dessert of coeur à la crème with roasted strawberry sauce. Goat cheese adds depth and keeps the "coeur" from being overly sweet. The roasted strawberry sauce includes some freshly ground black pepper, adding a hint of bite to the dessert.
If you are having a Valentine's day dinner "à la maison," coeur à la crème with roasted strawberry sauce is the perfect ending to a special dinner.
You can make the coeur à la crème 2 days in advance.
This recipe makes about 4 servings. See the note at the bottom for suggestions on making a smaller amount.
Special Equipment
6 or 7-inch coeur à la crème mold
If you do not have a mold, you can easily make this in a 6-inch dome-shaped sieve. It makes a nicely shaped round dessert.
Cheesecloth to line the mold (or sieve)
Ingredients
Coeur à la Crème Ingredients
4 ounces cream cheese, room temperature
4 ounces soft goat cheese, room temperature
2 teaspoons vanilla
1/2 teaspoon finely grated lemon zest
2 pinches kosher salt
2/3 cup heavy cream
4 tablespoons powdered sugar
Strawberry Sauce Ingredients
1 pound strawberries, hulled and quartered (about 6 cups)
4 tablespoons brandy
4 tablespoons sugar
2 teaspoons vanilla
1/2 teaspoon freshly ground pepper
2 pinches kosher salt
2 teaspoons fresh lemon juice
finely grated lemon zest for serving
Instructions
Make the Coeur à la Crème
Soak a large piece of cheesecloth in cold water and wring it out well. Line the coeur à la crème mold with the cheesecloth and set it in a pan.
In a large bowl, whisk the cream cream, goat cheese, vanilla, lemon zest and salt until smooth.
In another bowl, beat the heavy cream and powdered sugar until soft peaks form. Fold the whipped cream into the cheese mixture and blend it well.
Spoon the mixture into the prepared mold, fold the edges of the cheesecloth over it. Chill it for at least 6 hours. Keep the coeur à la crème in the mold until you are ready to serve it.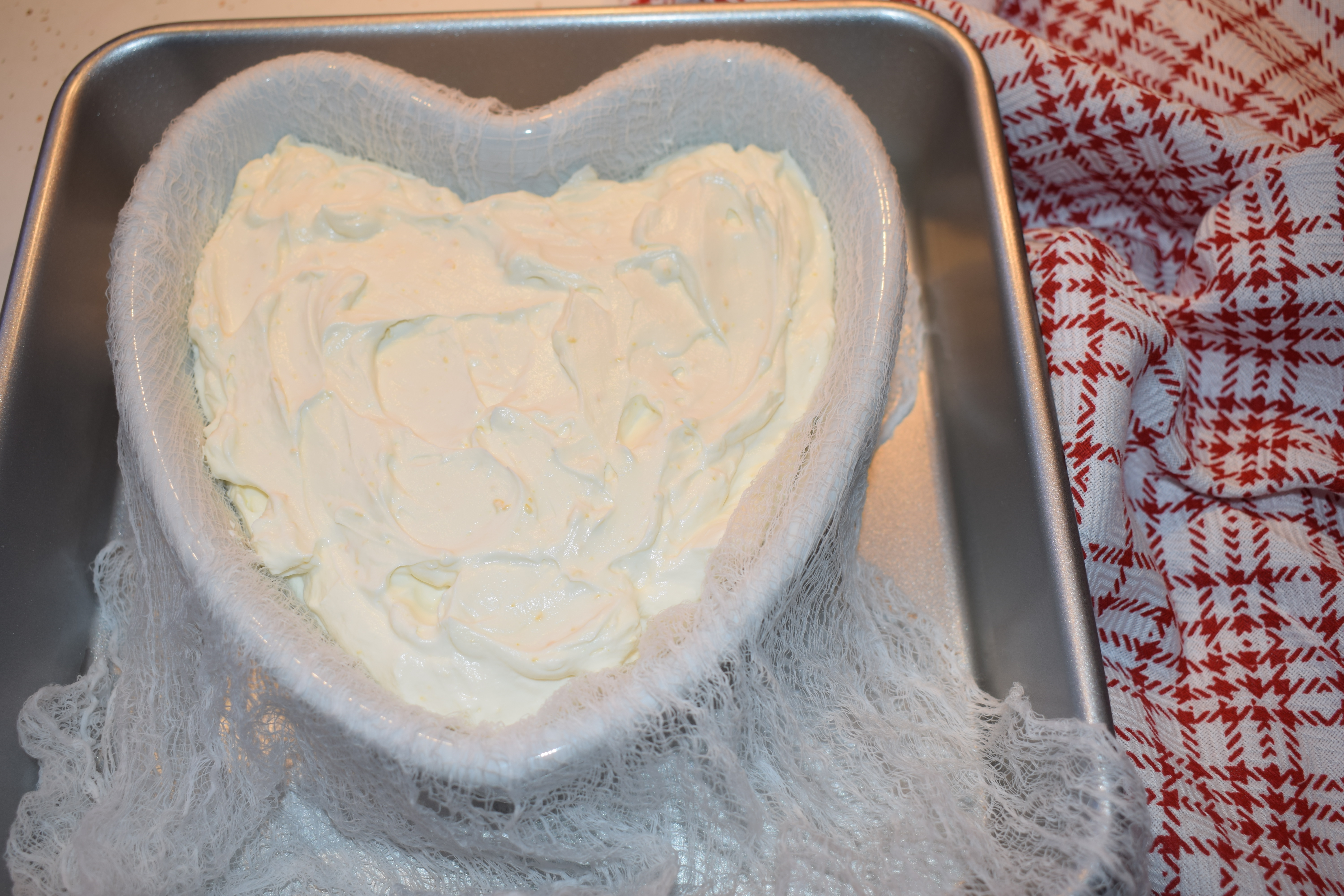 Make the Strawberry Sauce
Preheat the oven to 425 degrees.
Mix the strawberries, brandy, sugar, vanilla, pepper, salt and 3/4 cup water in a medium baking dish.
Roast the strawberries, stirring occasionally, until the juices are bubbling (approximately 20 minutes). Remove it from the oven and let it cool slightly. Stir in the lemon juice. Let it sit at room temperature.
Assemble the Dessert
Fold back the cheesecloth and invert the coeur à la crème onto a medium serving plate. Spoon some of the sauce around the coeur. Garnish it with lemon zest. Serve the rest of the sauce on the side.
Note: If you want to make this recipe for two, cut the recipe in half and use smaller coeur à la crème molds or a smaller sieve.