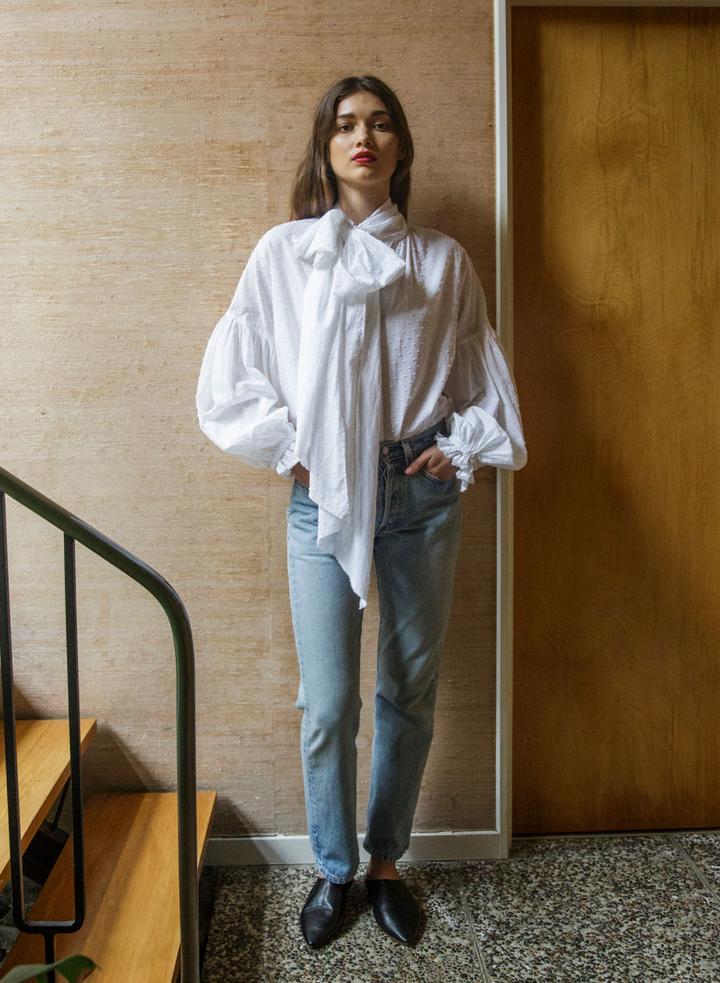 If there's one wardrobe item that needs regular updating, it's a white blouse. I'm currently coveting this Bow Blouse and Mahsa's other gorgeous blouses made of elegant raw cotton and silk.
This blouse has so much drama with a big bow at the throat and statement bishop sleeves. Mahsa describes the blouse as, "channeling the wasp-y white cottons of the Victorian era." With the ruffle at the cuff and the lovely oversized bow, I am reminded of the romantic look worn by men during the regency. With this blouse, think Elizabeth Bennet wearing Mr. Darcy's shirt, only a bit a softer and more loosely arranged. (After all, Mr. Darcy was a bit of a stiff shirt when we first met him.) The blouse looks fantastic with jeans as shown in the photo. It would look equally great with a pair of high-waisted belted wool trousers, black leather leggings, these black satin pants shown on the Mahsa site, or a simple wool skirt.
Here are some other shirt options with bows, ruffles or other adornments.
If you want to add a big bow to a white shirt that you already own, buy a simple white scarf that is long enough to tie in a bow.
Are you looking for something simpler? This fitted boyfriend swiss dot shirt is a classic.