Short Story
Midlife lifestyle blogger who loves travel, fashion, cooking, gardening, art, books and reading other bloggers. And stripes.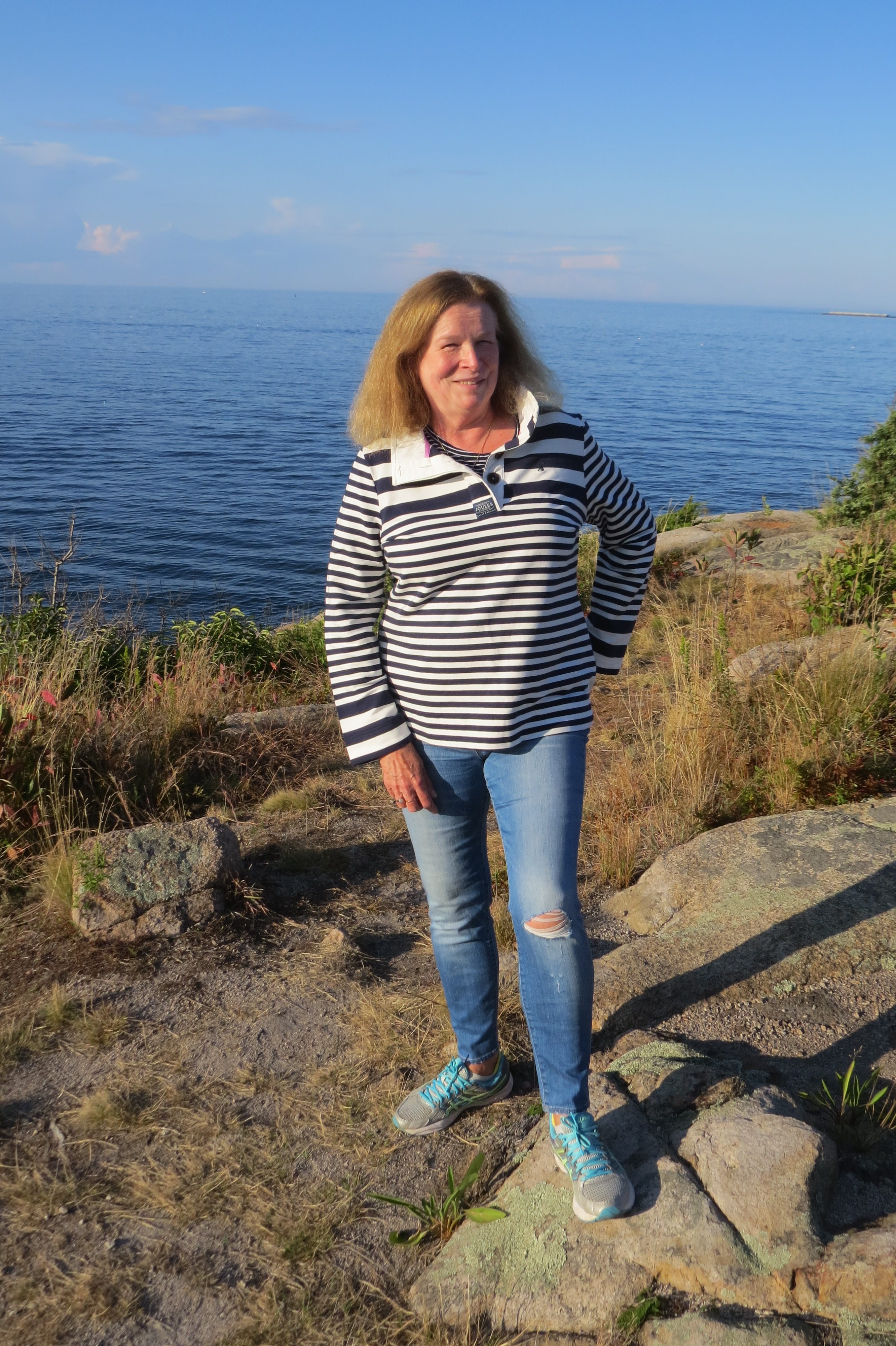 Long Story
Hi, I'm Dorothy Poole, but most people call me Dottie.
I was born and raised in the small Massachusetts coastal town of Gloucester. I come from a long line of Gloucester folks, including a great-uncle who was a lobsterman and the subject of a Norman Rockwell Saturday Evening Post cover. I'll share more sometime.
My husband, Tom, and I live in Arlington, a Boston suburb, and on the island of Martha's Vineyard. Tom and I share a love of the sea, beaches and islands. The ocean is in my blood and when I am away from it, I yearn for it. Tom is the same. We share what might seem to some a peculiar love of the smell of seaweed.
Tom is a descendant of Martha Carrier, who was accused of being a witch and hung during the Salem witch trials.
Needless to say, we have strong New England roots. No matter how far we wander and how much we like traveling, we always come back to our New England homeland.
Our son, Louis, is an artist and a writer. We are not sure where his painting and artistic genes come from, but we are so proud of his accomplishments and look forward to seeing his future artist creations.
Here I am with Tom and Louis in the Bromo Seltzer Arts Tower in Baltimore. (The clock was being restored at the time of this photo.)
I've had a long career as a technical writer, producing printed documentation, online help and wikis and creating videos to document software applications. When you are using help and you curse the person who wrote it — that would be me.
When I'm not working, I enjoy shopping, fashion, entertaining, gardening, cooking, reading, exercise and travel. For some time, I have been following bloggers and wanting to get involved in the blogging world, specifically to write my own blog.
I'm in my late middle life and I strongly believe that the fashion industry can do more to focus on women who are over 50. Many of us enjoy fashion and we like to shop. We get that the young, thin women in most advertisements have great appeal, but not all of us wear the size 00 jeans shown in the ads. Message to the fashion industry—Show us what your jeans would look like on our bodies. And we want to look good in those jeans! Give us more images of women in all shapes and sizes. Because, variety truly is the spice of life.
I'm hoping to connect with those of you who like to talk about fashion, entertainment, art, culture, cooking, traveling, family and life. I look forward to getting to know you and hearing what you think about all of these things.
Contact Me
I would love to hear from you. You can email me dottie@seasaltandsailorstripe.com.
When I'm working, it might take me a little while to respond, but I will try to get back to you as soon as I am able.