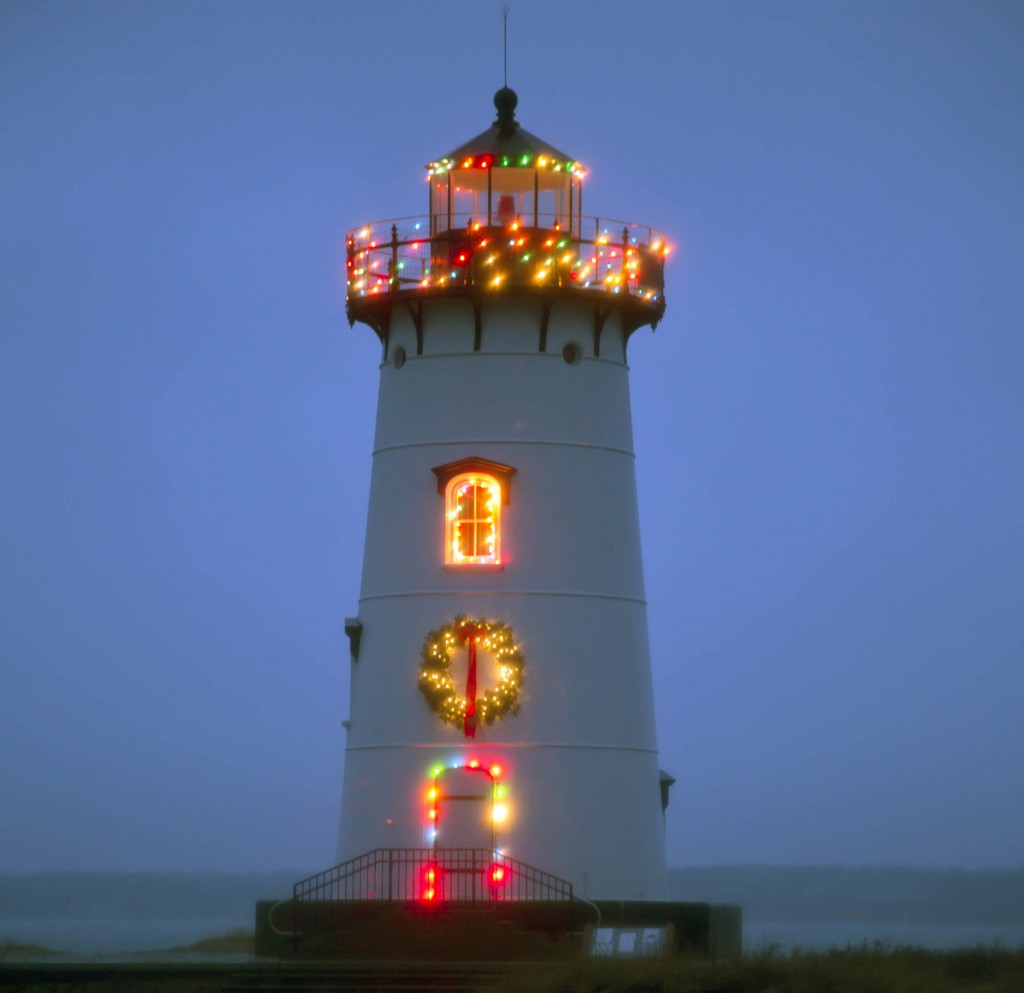 Kick off your holiday celebrations with a weekend getaway on Martha's Vineyard. Head to the island this weekend for the 36th annual Christmas in Edgartown celebrations. The events run from Dec. 7th – 10th. There are activities for everyone. Many island businesses join the celebrations, providing sales and entertainment for visitors. You can get some of your holiday shopping done, wine and dine and see the island dressed up for the holidays.
Highlights of Christmas in Edgartown
There are a lot of things going on during the celebration, but here are some of the highlights of the weekend.
Photos with Santa – Kids can visit Santa and have a photo taken with him. You have a few options:
Wagon Rides (Dec. 8th 5:00 PM – 7:00 PM) – Take a horse drawn wagon ride and sing Christmas carols along the ride. More details here.
Lighting of the Edgartown Lighthouse (Dec. 8th 6:00 PM – 6:15 PM) – Watch the annual lighting of lighthouse for the holiday season! See here for more information.
Minnesinger Concert at the Old Whaling Church (Dec. 8th 8:00 PM – 10:00 PM) – The Martha's Vineyard High School choral group performs seasonal selections at Edgartown's beautiful Old Whaling Church. Here's more information.
Teddy Bear Suite at the Harbor View Hotel (Dec. 9th and 10th 12:00 PM – 4:00 PM) – Hundreds of teddy bears dressed in holiday finery. Check here for more details.
Arts and Crafts Festival at Edgartown High School (Dec. 9th 10:00 AM – 4:00 PM) – Over 30 island artists and craftspeople will be selling their work. You'll find jewelry, paintings, ceramics, clothing and more. It's a great opportunity to purchase unique holiday gifts. The event is free and parking is free. Check here for details.
Christmas at the Cape Poge Lighthouse (Dec. 9th and 10th 10:00 AM – 2:00 PM) – This tour includes an over-sand vehicle ride along the barrier beach to the remote Cape Poge Lighthouse, which is decorated for the holidays. Your guides will happily point out wildlife and tell stories about the lighthouse and its former keepers. You'll be able to climb to the top of the lighthouse for a great view. I've done this trip in the summer and it is a great experience! Space is limited, so make reservations in advance. Details for Saturday's tour and registration are here and Sunday's tour and registration are here.
Christmas in Edgartown Parade (Dec. 9th 11:00 AM – 12:00 PM) – Check out the dancers, floats, fire engines, Santa and more as the parade moves down Main St. in Edgartown. Details are here.
WMVYRadio's Great Chowder Contest (Dec. 9th 12:00 PM – 2:00 PM) – You can taste a selection of the island's chowders and choose your favorites. Check here for details and to buy tickets.
Mytoi Illumination (Dec. 9th 4:00 PM – 6:00 PM) – Walk the paths of this lovely Japanese garden on Chappaquiddick. The garden is illuminated for the celebration. You can take a shuttle bus from the Chappy ferry to the garden. For more information, check here.
Teddy Bear Trot 5K Run/Walk (Dec. 10th 9:45 – 11:00 AM, Registration starts at 8:30 AM) – There's a fun run and the 5K run and walk. Starting times differ. Check here for times and more information.
Carol Singing at the Federated Church (Dec. 10th, 2:00 PM – 3:00 PM) – Celebrate the season at a carol sing-along. Check here for more information.
This list doesn't do justice to all of the wonderful things happening from Dec. 7th – 10th. There's a walking tour of Edgartown, an island bus tour, cookie decorating, face painting, holiday movies, nature crafts, a bird walk, toddie tasting, wine tasting, food stands and so much more!
Local organizations, churches and the library are in on the fun. Many organizations are accepting toy donations for kids or other donations for local charities. For a complete list of events and the most up-to-date information, see the Edgartown Board of Trade's Christmas in Edgartown site.
Getting to Martha's Vineyard
Your options for getting to the island depend on where you are coming from. Here are a few ways to get there.
You might want to take a Hyline boat trip from Hyannis, MA directly to Edgartown.
If you want to bring your car, check out the Steamship Authority schedule and make a reservation on their website.
Several airlines fly to the island.
If you don't have a car while on the island, you can take island buses to other towns event locations outside of Edgartown.
Accomodations
You can stay in a hotel, inn, bed and breakfast or you can rent a private residence. Some places are closed for the season, but there are plenty of places to stay during the off-season.
Here's a link to the Edgartown Board of Trade's list of hotels and inns in Edgartown.
For more information about places to stay on the island, see the Martha's Vineyard Chamber of Commerce website. You'll find a lot of other information about visiting the island on their site.
About the photo: Photo from the Edgartown Board of Trade Christmas in Edgartown.
You might want to check out my post about Lighthouses of Martha's Vineyard.